By: Patrick O'Connor Ph.D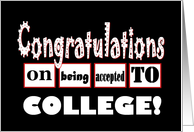 Let's face it—even though there school counselors are highly trained professionals, there are times we blame things on the elements—especially the moon. How many times have students been behaving like zombies, and we mumble to ourselves, "It must be a full moon"?
As it turns out the moon really is to blame for a major counseling issue this year, as Easter falls close to the time many highly selective colleges are sending their admissions decisions. We'd all like to be there to offer words of support for our students as they hear their decisions, but if you can't be there due to vacation, consider sending a pre-emptive note of support—like this:

Dear Seniors:
As is sometime the case, our Spring Break will coincide with the release of admissions decisions from many of the colleges and universities where you've applied. This is an exciting time, and we look forward to hearing your results when school resumes. Until then, please keep these three important points in mind:
Consider where you hear the news. Many colleges will release their decisions by e-mail, which means you could be anywhere when the news is released. At first, it might seem that it doesn't matter where you are, or who you're with, when you open your decisions—but students often feel differently once they've opened an e-mail and responded in ways they hadn't expected. You've worked hard on your college applications, and there will always be time to tell someone else, once you know the decision yourself. Consider opening your decisions in a private space; it will give you time to plan how to share the news with others.
Read the decision letter carefully, two times. An offer of acceptance usually requires you to submit a deposit, and can include other activities to complete, like signing up for orientation, and responding to financial aid offers. You don't want to overlook these important, and required, events, since they may impact your ability to attend the college of your dreams!
If you've been waitlisted, you want to read the letter carefully to make sure when, and how, to contact the college. Some ask you to send in a postcard or e-mail to stay on the waitlist; some will allow you to submit additional materials for the admissions office to consider (and some won't—so make sure you know which is which), and some will tell you to do nothing at all. You'll want to do the right thing, so make sure you understand how to proceed.
Share your results with your counselor when school reopens. Most students think we know your college decisions before you do, when, in fact, we often never know your admissions results unless you tell us! Keep your letters together (including the letters with scholarship information), and bring them in on the first day of school—remember, you have to do this in person.
It's been an incredible honor to work with you this year. Let's bring this college search to a great close, as you head towards your last spring in high school—and beyond!